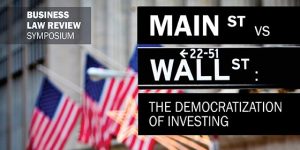 The University of Miami Business Law Review is hosting its 2022 online symposium on Friday, March 4, 2022. The symposium will run from 12:30 PM to 3:30 PM. The symposium will be conducted via Zoom. Attendees can apply to receive CLE credits for attending this event—3.5 CLE credits have been approved by the Florida Bar. 
The symposium will host two sessions with expert panelists discussing the gamification of trading platforms and the growing popularity of aligning investments with personal values.
The panels will be moderated by Professor Marcia Narine Weldon, who is the director of the Transactional Skills Program, Faculty Coordinator of the Business Compliance & Sustainability Concentration and a Lecturer in Law at the University of Miami School of Law.
Panel 1: Gamification of Trading 
This panel will focus on the role of social media and "gamification" of trading apps/platforms in democratizing investing, and the risks that such technology may influence investor behavior (i.e., increase in trading, higher risk trading strategies like options and margin use, etc.).
Gerri Walsh is Senior Vice President of Investor Education at the Financial Industry Regulatory Authority (FINRA). In this capacity, she is responsible for the development and operations of FINRA's investor education program. She is also President of the FINRA Investor Education Foundation, where she manages the Foundation's strategic initiatives to educate and protect investors and to benchmark and foster financial capability for all Americans, especially underserved audiences. Ms. Walsh was the founding executive sponsor of FINRA's Military Community Employee Resource Group. She serves on the Advisory Council to the Stanford Center on Longevity and represents FINRA on IOSCO's standing policy committee on retail investor education, the Jump$tart Coalition for Personal Financial Literacy, NASAA's Senior Investor Advisory Council and the Wharton Pension Research Council.
Prior to joining FINRA in May 2006, Ms. Walsh was Deputy Director of the Securities and Exchange Commission's Office of Investor Education and Assistance (OIEA) and, before that, Special Counsel to the Director of OIEA. She also served as a senior attorney in the SEC's Division of Enforcement, investigating and prosecuting violators of the federal securities laws. Before that, she practiced law as an associate with Hogan Lovells in Washington, D.C.
Ari Bargil is an attorney with the Institute for Justice. He joined IJ's Miami Office in September of 2012, and litigates constitutional cases protecting economic liberty, property rights, school choice, and free speech in both federal and state courts.
In 2019, Ari successfully defended two of Florida's most popular school choice programs, the McKay Program for Students with Disabilities and the Florida Tax Credit Program, before the Florida Supreme Court. As a direct result of the victory, over 120,000 students in Florida have access to scholarships that empower them to attend the schools of their choice.
Ari also regularly defends property owners battling aggressive zoning regulations and excessive fines in state and federal court nationwide and litigates on behalf of entrepreneurs in cutting-edge First Amendment cases. He was co-counsel in a federal appellate court victory vindicating the right of a Florida dairy creamery to tell the truth on its labels, and he is currently litigating in federal appellate court to secure a holistic health coach's right to share advice about nutrition with her clients. In 2017, Ari was honored by the Daily Business Review as one of South Florida's "Most Effective Lawyers."
In addition to litigation, Ari regularly testifies before state and local legislative bodies and committees on issues ranging from occupational licensing to property rights regulation. Ari has also spearheaded several successful legislative campaigns in Florida, including the effort to legalize the sale of 64-ounce "growlers" by craft breweries and the Florida Legislature's passage of the Right to Garden Act—a reform which made it unlawful for local governments to ban residential vegetable gardens throughout the state.
Ari's work has been featured by USA Today, NPR, Fox News, Washington Post, Miami Herald, Dallas Morning News and other national and local publications.
Christine Lazaro is Director of the Securities Arbitration Clinic at St. John's University School of Law. She joined the faculty at St. John's in 2007 as the Clinic's Supervising Attorney. She is also a faculty advisor for the Corporate and Securities Law Society.
Prior to joining the Securities Arbitration Clinic, Professor Lazaro was an associate at the boutique law firm of Davidson & Grannum, LLP.  At the firm, she represented broker-dealers and individual brokers in disputes with clients in both arbitration and mediation.  She also handled employment law cases and debt collection cases.  Professor Lazaro was the primary attorney in the firm's area of practice that dealt with advising broker-dealers regarding investment contracts they had with various municipalities and government entities.  Professor Lazaro is also of Counsel to the Law Offices of Brent A. Burns, LLC, where she consults on securities arbitration and regulatory matters.
Professor Lazaro is a member of the New York State and the American Bar Associations, and the Public Investors Arbitration Bar Association (PIABA). Professor Lazaro is a past President of PIABA and is a member of the Board of Directors.  She is also a co-chair of PIABA'S Fiduciary Standards Committee, and is a member of the Executive, Legislation, Securities Law Seminar, and SRO Committees. Additionally, Professor Lazaro is the co-chair of the Securities Disputes Committee in the Dispute Resolution Section of the New York State Bar Association and serves on the FINRA Investor Issues Advisory Committee. 
Panel 2: ESG Investing
The second panel will address the growing popularity of ESG funds among investors that want to align their investments with their personal values, and the questions/concerns that arise with ESG funds, including: 1) explaining what they are; 2) discussing the varying definitions and disclosure issues; 3) exploring if investors really give up better market performance if they invest in funds that align with their values; and 4) asking if the increased interest in ESG funds affect corporate change? 
Mr. Riesenberg is Senior Regulatory Advisor to Ceres, working on climate change issues. He previously worked as an advisor to EY Global's Office of Public Policy on ESG regulatory issues. Before that he worked as the Director of Legal and Regulatory Policy at The Sustainability Accounting Standards Board pursuant to a secondment from EY. At SASB he worked on a range of US and non-US policy matters for nearly seven years. He served for more than 20 years as counsel to EY, including as the Deputy General Counsel responsible for regulatory matters, primarily involving the SEC and the PCAOB. Previously he served for seven years as an Assistant General Counsel at the U.S. Securities and Exchange Commission where he handled court of appeals and Supreme Court cases involving issues such as insider trading, broker-dealer regulation, and financial fraud. While at the SEC he received the Manuel Cohen Outstanding Younger Lawyer Award for his work on significant enforcement cases. He also worked as a law clerk for a federal district court judge in Washington, D.C., as a litigator on environmental matters at the U.S. Department of Justice, and as an associate at a major Washington, D.C. law firm.

Mr. Riesenberg graduated from the New York University School of Law, where he was a member of the Law Review and a Root-Tilden Scholar (full-tuition scholarship). He received a bachelor's degree from Oberlin College, where he graduated with honors and was elected to Phi Beta Kappa. He is a former chair of the Law and Accounting Committee of the American Bar Association, former president of the Association of SEC Alumni, former treasurer of the SEC Historical Society, and a current member of the Advisory Board of the BNA Securities Regulation and Law Report. For seven years he was an adjunct professor of securities law at the Georgetown University Law Center. He is an elected member of the American Law Institute. He serves on the boards of several nonprofit organizations, including the D.C. Jewish Community Relations Council and the Washington Tennis & Education Foundation. He is the author of numerous articles on securities law and ESG disclosure issues.
Benjamin Edwards joined the faculty of the William S. Boyd School of Law at the University of Nevada, Las Vegas in 2017. In addition to being the Director of the Public Policy Clinic, he researches and writes about business and securities law, corporate governance, arbitration, and consumer protection. Prior to teaching, Professor Edwards practiced as a securities litigator in the New York office of Skadden, Arps, Slate, Meagher & Flom LLP. At Skadden, he represented clients in complex civil litigation, including securities class actions arising out of the Madoff Ponzi scheme and litigation arising out of the 2008 financial crisis.
Max Schatzow is a co-founder and partner of RIA Lawyers LLC—a boutique law firm that focuses almost exclusively on representing investment advisers with legal and regulatory issues. Prior to RIA Lawyers, Max worked at Morgan Lewis representing some of the largest financial institutions in the United States and at another law firm where he represented investment advisers and broker-dealers. Max is a business-minded regulatory lawyer that always tries to put himself in the client's position. He assists clients in all aspects of forming, registering, owning, and operating an investment adviser. He prides himself in preparing clients and their compliance programs to avert regulatory issues, but also assists clients through examinations and enforcement issues. In addition, Max assists advisers that manage private investment funds. In his little spare time, Max enjoys the Peloton (both stationary and road), golf, craft beer, and spending time with his wife and two children.